If you need a REALLY fast dessert that's absolutely delicious, you need to make this Kool Aid Pie recipe! Four ingredients and 5 minutes! IT'S SO GOOD!
This post may contain affiliate links. See our full disclosure policy HERE.
I saw a picture of this floating around on Facebook, and decided to test it out myself! It turned out so well, I wanted to share it with you all too! This is the easiest dessert I've ever made, and it's creamy and delicious.
I really love that it's totally customizable flavor-wise too because of the Kool Aid. So far I've only tried Black Cherry, but I really want to try Blue Raspberry and Pink Lemonade next!
HOW TO MAKE KOOL AID PIE
Step 1: Mix the Ingredients
You ready for this? Dump the sweetened condensed milk into a mixing bowl with the Kool-Aid packet and stir it all up. Then add in the container of whipped cream and use a spoon or silicone spatula to mix it all together. Once it's combined with no streaks, flop it into a graham cracker crust and smooth it out evenly.
Step 2: Refrigerate
Cover the pie and put it in the fridge for 2-4 hours to cool completely. Serve the Kool Aid Pie cold. Optionally you can add another dollop of whipped cream onto the top of the pie before serving, but it's not necessary. Watch the video above to see how I made it.
If you want some other no bake desserts, I've got several! My no bake cookies are a favorite around here, and my Copycat Dairy Queen Reese's Treatzza Pizza is to DIE FOR!!
KOOL AID PIE RECIPE TIPS AND VARIATIONS
Use any flavor of Kool-Aid to customize the flavor of your pie.
You can let your pie refrigerate overnight to save time.
Store your Kool Aid Pie in the fridge up to a week after making.
Add sprinkles to make it more fun and colorful!
Add toppings like fresh fruit and candies to take your pie to the next level.
Fun Flavor Ideas to Try
Pink Lemonade
Grape
Blue Raspberry
Cherry Limeade
Fruit Punch
Watermelon
Orange
Green Apple
Lemonade
How long does Kool Aid Pie last in the fridge?
You can safely store this pie covered for up to a week. I usually make this the night before, since it take 5 minutes to throw together. But, if you want to get it out of the way, or store leftovers, you can store it in the fridge.
Which Kool Aid Pie flavor will you try first? Let me know if you made this in the comments and how you liked your flavor!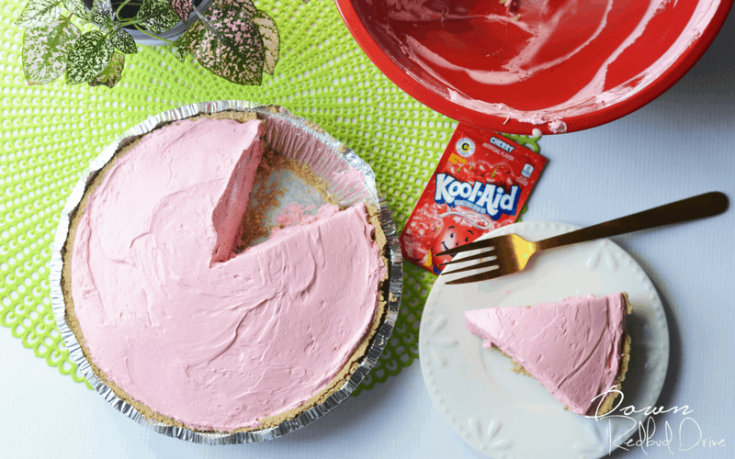 Yield:

8 slices
Kool Aid Pie
Total Time:
4 hours
5 minutes
This super easy no bake dessert is perfect for summer! Choose any flavor of kool aid to make kool aid pie!
Ingredients
1 can of Sweetened Condensed Milk
1 packet of Kool-Aid
8 oz container of whipped cream, thawed
1 graham cracker pie crust
Instructions
In a mixing bowl combine the sweetened condensed milk and the Kool-Aid packet until they're mixed thoroughly.
Then use a large spoon or silicone spatula and mix in the tub of whipped cream until there are no more white streaks.
Spoon the mixture into the pie crust and spread it evenly.
Cover the Kool Aid Pie and let it chill for 2-4 hours before serving.
Notes
Use any flavor of Kool-Aid to customize your kool aid pie.
You can let it chill overnight if you need to.
Good in the fridge after making for up to a week.
Nutrition Information:
Yield:
8
Serving Size:
1
Amount Per Serving:
Calories:

210
Total Fat:

12g
Saturated Fat:

5g
Trans Fat:

0g
Unsaturated Fat:

6g
Cholesterol:

23mg
Sodium:

118mg
Carbohydrates:

23g
Fiber:

0g
Sugar:

11g
Protein:

2g