This shop has been compensated by Collective Bias, Inc. and its advertiser. All opinions are mine alone. #TeaProudly #CollectiveBias Want to give a unique gift that will last? Give a DIY Tea Bouquet!
This post may contain affiliate links. See our full disclosure policy HERE.
It seems like my entire life is based around last minute plans. I'm always needing something last minute, and people expect me to creative, much like I expect myself to be creative as well! I love hot teas, very very much. There are a TON of health benefits (see my post on that here) and they're just plain delicious!
Gifting a box of Bigelow Tea isn't a bad gift, but it lacks presentation and excitement. However, making a Tea Bouquet is just the pizazz gifting tea needs! We're pretty particular about our tea around here, and our use of Bigelow Tea goes back for several generations. SO when I'm going to gift tea, I'm going to gift Bigelow Teas. Besides, no one else has anything EVEN CLOSE to Constant Comment, and it's my favorite tea blend ever! Follow them on Facebook, Twitter and Instagram for creative ideas!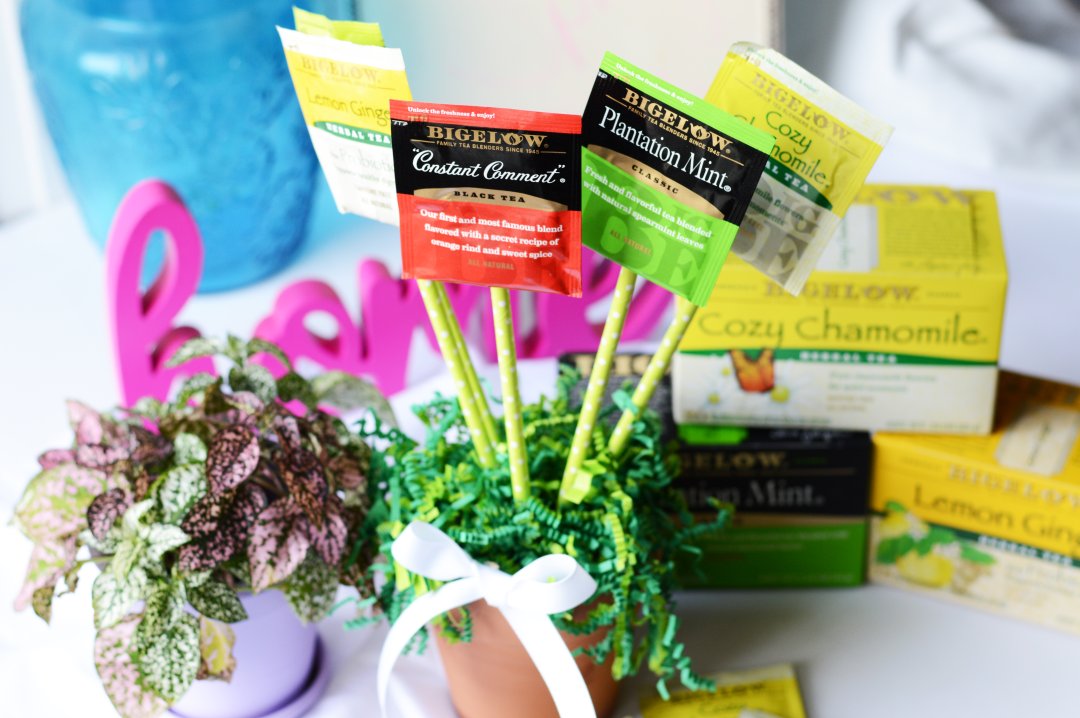 Want to get your own Bigelow Teas for this project? Hover over the image above to shop right from this post!
DIY Tea Bouquet
You will need:
Wooden skewers
Green paper straws
Scotch tape
Bigelow Teas (I get mine at Walmart)
Flower Pot (you can use any small pot, I used a clay one)
Floral Foam
Green paper shred (can also use tissue paper or Spanish moss – I used leftover Easter grass)
Ribbon for the bow
The first thing I did was to decide how many Tea Bouquet "flowers" I wanted there to be, and to set out my tea packets. Use a piece of scotch tape, and tape the back of the tea packet to the paper straw.
Cute out a piece of floral foam that will fit into your flower pot. You don't want the foam to be taller than the pot, so be sure to wedge in tightly, and trim off the top if needed. Use the paper shred to cover the foam. No glue is needed, just tuck it in the holes and edges. Then, cut your wooden skewers to the length you want your flowers to be and press them into the foam. I like to spread mine out for my Tea Bouquet so they fill out the pot nicely.
Slide the paper straws with the Bigelow Tea "flowers" taped to them over the top of the skewers. I like to finish mine off with a bow. I use about a foot of ribbon and tie it into a bow. I glued the bow to a wooden skewer cut short, and stuck it in the front of my pot.
Then your Tea Bouquet is finished and ready for gifting! Add a sweet card, or even use chalk to add a message directly to the clay pot (or let the kids decorate it with chalk!) to make it more personal. Who will you gift your Tea Bouquet to? It's perfect for Mother's Day, birthdays, get well soon gifts, or even just because!