This shop has been compensated by Collective Bias, Inc. and its advertiser. All opinions are mine alone. #PlayWithPlaymobil #CollectiveBias Having a family emergency plan is vital. It's important for you, and your kids to be on the same page. It needs to be something that's talked about and practiced often so that if an emergency happens, kids don't have to think twice about what to do or where to go, but KNOW what to do because it's been discussed and practiced so often.
Emergency Family Plan
No one wants to think about what could happen in an emergency situation. No one wants to think about their house catching on fire, or a storm coming, or children getting separated from parents, BUT we have to be prepared for these situations. When anyone is scared, it's easy to forget how to function. Logic is forgotten. I remember when I had my first bad wreck, and my car caught on fire in a busy intersection. I wasn't sure if it was safe, or what protocol was for wrecks, so I was afraid to get out of the car. I just sat there in my burning car, because my brain wasn't fuctioning on logic, it was functioning on fear and adrenaline. That is also how your children will respond in an emergency situation, unless they have a Family Emergency Plan that's been practiced and acted out repetitively together.
I've found that, in my experience, that children learn best through play. They learn best when it's hands on and they can play through sitations instead of just listening to someone talk to them. When I saw these PLAYMOBIL toys at Walmart, I knew I wanted to use them to help reinforce our Family Emergency Plan and help my kids learn something valuable and vital through play.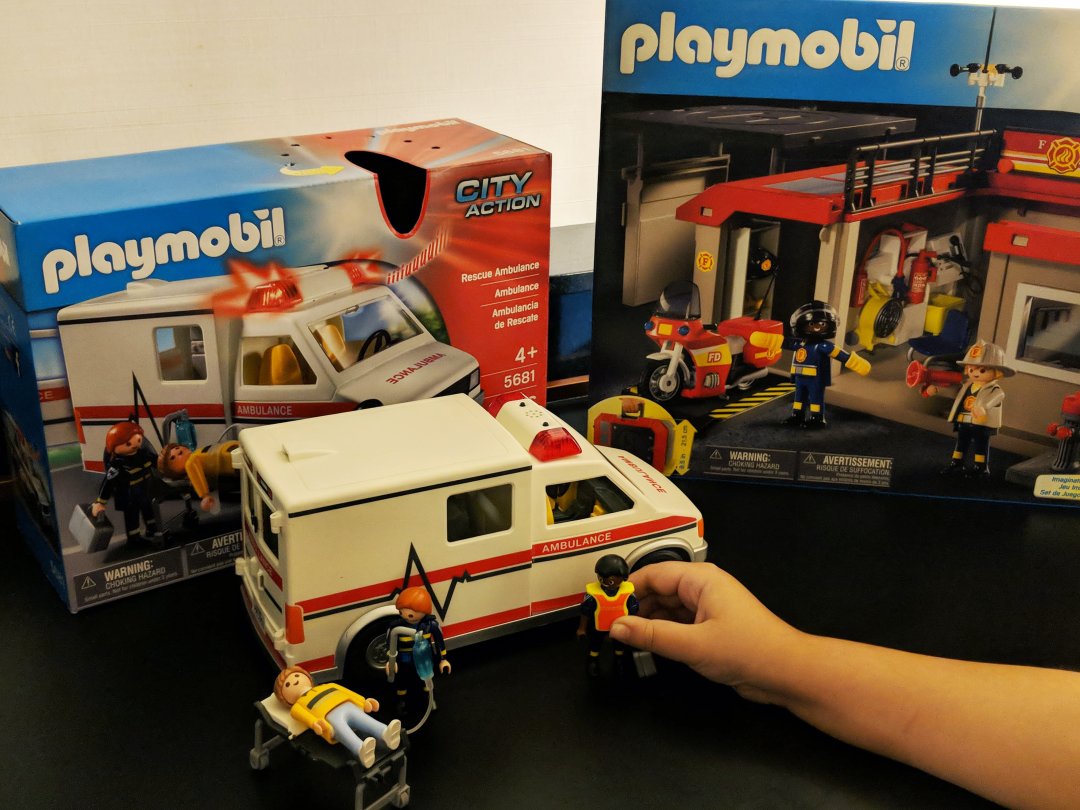 You can also snag them by hovering over this image and clicking the products individually to buy them online. They're affordable, and very high quality.
One of the biggest things I learned from a firefighter directly, was that sometimes, even if they make it into a house to save a child in a fire, that sometimes children don't make it. Firefighters wear masks to help them breathe in smoke-filled rooms, and it makes their voices sound funny. So all kids see and hear, in the midst of their panic, is a big silhouette of a person, with a weird voice, calling to them, so they stay silent. When I heard that, I knew I wanted to make sure that from a very young age, I talked to my kids about this fact, and made them comfortable with the thought of someone besides their parents saving them in an emergency situation like severe weather, or a house fire.
I got the PLAYMOBIL Take Along Fire Station and the PLAYMOBIL Rescue Ambulance for my kids to play through our Family Emergency Plan. I also made this printable, that you can grab for free to print yourself HERE, that we hang on the fridge to give them a visual reminder daily of where to go, what to do, and who to call if need be. We talked about as a family, where they would go in case of an emergency storm. We chose our play room, and I took a photo of it all messy and cluttered, because that's how it always looks. Then we chose a meeting spot for where we would go in case of a fire. Then I printed them, cut them out, and glued them in the space on the printable Family Emergency Plan.
It's very important that kids know in situations like these, not to go and try to search and find their parents, but go to the appointed place and stay there until they're found. It's an automatic response for kids to want to find their parents when they're scared, but it can put them in danger by doing so. We also posted emergency numbers on the sheet along with 911 so if kids find themselves needing to call for outside help, they have easy access to those numbers.
I am SO happy that I did this with my kids through these toys! PLAYMOBIL does an AMAZING job of paying attention to detail. I love the little IV bag that came with this PLAYMOBIL Rescue Ambulance set. I was able to walk through each piece with my kids, and explain what they were for and how they could be used in an emergency situation.
We not only talked about our family emergency plan, but we were ablt to use all these awesome PLAYMOBIL toys for my kids to act out their own emergency situations. I watched them act as police officers, and firefighters, and emergency responders, and even as the victims and saw their understanding blossom as they played. Check out their connection hub to see all the awesome ideas other parents have had with their kids for these toys HERE.
By playing with toys that depict, in a very real and age-appropriate way, emergency responders and personnel my kids learn to lose their fear of policemen and firemen, and learn to understand that they're there to help and save us when we need it. We talked about how sirens are fun, but how they can be loud and may sound scary in the middle of an emergency situation. Including these conversations in your Family Emergency Plan is really important.
Outside of our Family Emergency Plan, my kids love these toys. They play and play with them, and always a different scenario. It's really awesome to see how their little minds come up with scenes they can act out with their imaginitive play! I love watching them play with toys like this, with real sirens, and toys that depict real life objects and people. What PLAYMOBIL set(s) would you chose for your kids?