This shop has been compensated by Collective Bias, Inc. and its advertiser. All opinions are mine alone. #BigelowTea #TeaProudly #CollectiveBias See my full disclosure policy HERE. If you're looking to change your health routine in the new year, you need to know about all the Hot Tea Health Benefits! There are tons!
I'm so excited to be partnering with Bigelow Tea to share this post with you all! Bigelow Tea has been a part of our family's routine and history for as long as I can remember. My Great Grandma Evelyn (who my youngest was named after) was an avid Constant Comment drinker. She shared that with her grandchildren (my Mom and her siblings), who in turn shared it with us growing up, and now I'm sharing it with my children. Constant Comment is our favorite tea flavor because of all the warm fuzzy memories attached to it, and I know you and your family will love it too!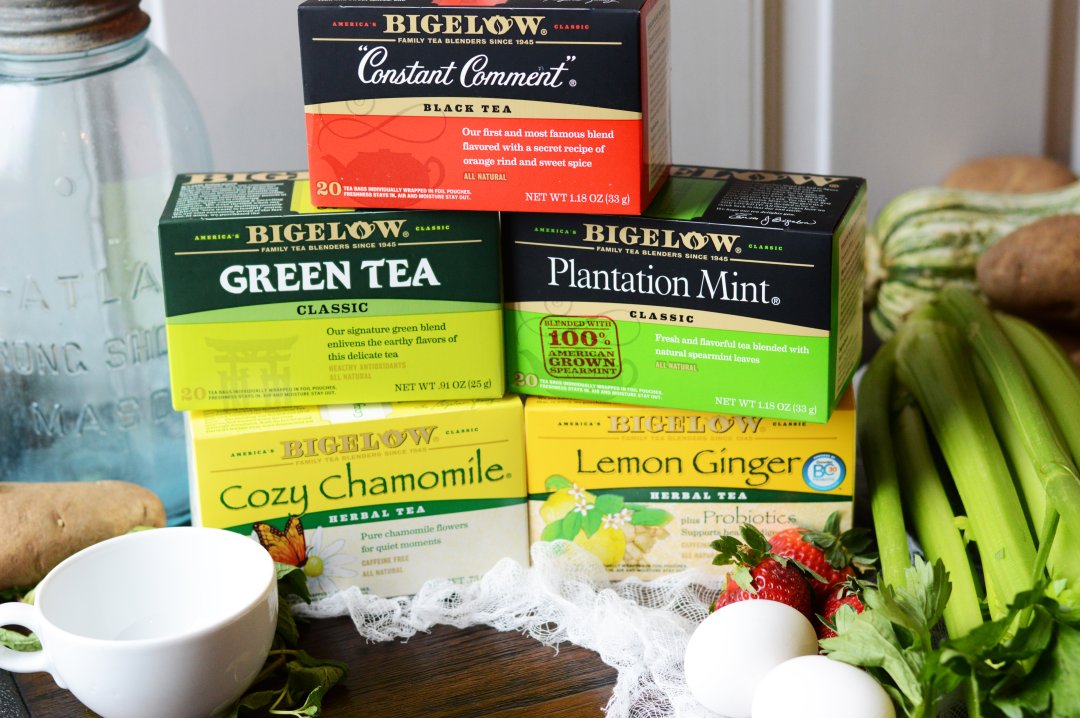 To snag your own Constant Comment (you know you want to), or any of the flavors I'm going to talk to you about, just hover over the image above and click through to Walmart to buy it!
Bigelow is celebrating Hot Tea Month in January, and you can celebrate right alongside them! If you're looking to buy it in store, the aisle with the tea, hot cocoa etc is where you're going to find it. My store had a HUGE selection, and yours should too! After you grab your favorite flavor and make a mug, head over to
Tea Proudly
and see how your cup of tea is more than just a cup of tea! Be sure to follow them on
Facebook
,
Twitter
, and
Instagram
for the latest updates, contests and deals!
Hot Tea Health Benefits
Outside of all the amazing flavors, there are actually a TON of Hot Tea Health Benefits. As the new year starts, many of us are trying to be more conscious about what we put into our bodies and for good reason! Food and drink should be so much more than just meal-times but should also be an active choice to give our bodies the support they need to be healthy and happy on a daily basis!
Cozy Chamomile
My life has always included tea. As a little girl, I can remember my Grandma Ruby giving us warm cups of chamomile tea before bed at night when we stayed at her house. She would wrap us in giant, soft blankets and make us these amazing cups of tea. To this day, if my mind is having trouble resting, or if I just want to relax at the end of a long day, I'll pour myself a cup of hot chamomile tea. Not only does the hot tea warm you up and help you relax, but the chamomile itself actually helps to aid your body in relaxation as well!
Green Tea
On the flip side of that, mornings can be rough. Most of us want to wake up, shuffle into the kitchen, and drink as much coffee as we can handle so we're ready to tackle our day, especially if we have kids! Green Tea is actually an excellent option for natural energy that doesn't have as much of a let-down as coffee does. Hot Tea Health Benefits go beyond relaxation, and green tea is an excellent example of that!
Plantation Mint
Another one of my all time favorite hot tea flavors from Bigelow Teas is their Plantation Mint! I'm a mom, and sometimes I have to talk a LOT to get my point across to my kids. They can never let me say something just once (can you relate?) so my vocal cords get a lot of use during the day…and sometimes during the night too. When my voice is tired, or my vocal cords have had enough, I love to grab a glass of Plantation Mint to help soothe my tired throat. It's absolutely perfect and feels amazing, not to mention I love the minty taste too!
Lemon Ginger
One of the most amazing Hot Tea Health Benefits is that you're getting the benefits of the herbs and plants used to make the tea itself when you drink your tasty beverage. It's widely known that in Asian countries that they drink hot tea with their meals, while in America we typically drink cold drinks with ours. One of the reasons they drink hot tea with their meals is to aid in proper digestion. The warm beverage keeps food warm, allowing the stomach to digest everything easier than if a cold drink had cooled everything instead. This isn't just the norm in Asian countries either. Recently my daughter was taking Spanich from a Costa Rican native, and his girlfriend was sick. He chastised her many times for drinking cold drinks while she was sick, telling her that hot drinks would help her more when she was not feeling well. Isn't that interesting?
Lemon Ginger specifically are two of the best natural options for aiding and supporting healthy digestion and cleansing of the intestines. The flavors taste great, don't get me wrong, but it's the perfect hot tea to enjoy with a meal, or when you feel like your digestive system could use a little support! Hot Tea Health Benefits are amazing!
Hot Tea Health Benefits are limitless. Using hot tea in your quest to a near year and a new you is an excellent place to start! What ways have you used hot tea to support your healthy lifestyle? Which flavor of Bigelow Tea is your favorite, or are you most excited to try? Check out their website to see all their flavors HERE!